Rewit is a powerful Twitter client application for WM. It has an intuitive interface and is multi-functional.
It is developed by Japanese programmer, Iori AYANE (@IoriAYANE). So only supported by Japanese in principle.
日本語の説明はこちら

*Screen Shot
*Download
*System Requirements
*Main Features
*Installation
*Settings
*Operations
*Comment From Developer
*Special Thanks

/// Screen Shot ///
・Normal Mode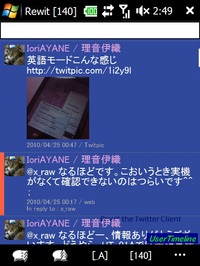 ・Full Screen(and pretty theme)
 

/// Download ///
・Version 0.41.393(2010/5/9)
・Version 0.40.390(2010/5/8)
・Version 0.39.384(2010/5/6)

/// System Requirements ///
- Windows Mobile Professional/Classic/Standard 5, 6, 6.1 or 6.5 (touchscreen-based device)
- Installed .NET Compact Framework 2.0
- Installed files size is about 3MB
I tested on
- eMobile S21HT a.k.a. Touch Diamond (Windows Mobile 6.1, VGA)
- WILLCOM WS020SH (Windows Mobile 6.1, WVGA)
and I heard some users are on
- NTT docomo T-01A a.k.a Toshiba TG01 (Windows Mobile 6.1/6.5, WVGA)

/// Main Features ///
- Fullscreen display and 1-lined input box
- Timeline
- @Mentions
- Direct Messages
- Lists
- Search Results
- Retweets
- Following
- Followers
- Favorites
- Enlarge input box by clicking SIP icon
- Setting default display on executing Rewit whether Menu List or Timeline
- Side slidable Menu (Right) and context display (Left)
- Support multiple Twitter accounts
- Max 200 tweets display and easy-change the count via menu
- Refresh your display on every setting time
- Context Menu on every tweet by long-touch
- Support "in reply to" function
- posting pic to
- TwitPic
- Keitai Hyakkei (Japanese Web Service)
- Hatena fotolife (Japanese Web Service)
- Support location information (only GPS built-in model)
- Geotagging in Tweet (if you allow Twitter's setting "Add a location to your tweets")
- Generate link URL of Google Maps
- Support public RT and QT via Menu
- Support URL Abbreviation by "bit.ly"
- inline-view thumbnails of posted pics
- Support to select and add #Hashtag tweet by easy-preset function
- Support oAuth/xAuth
- Custamize/Import/Export UI Theme (Colors of System Messages, Menus and Wallpaper)
- Translation( powered by Google) New!!
/// Installation ///
- Install .NET Compact Framework 2.0 if you are not yet.
- Download the file under your PC or device, and copy the CAB file to your device.
- Under your device, run any File Explorer app and open the folder where the CAB file is copied.
- Run the CAB file.
///Settings ///
coming soon ...
/// Operations ///
coming soon ...
/// Comment From Developer ///
If you use Rewit and feel fine, please describe "How to use Rewit" by English and publish on your blog or the other place.

/// Special Thanks ///
@keikawaguti : She made a very pretty(MOE) theme.
@SuiJackDo : He helped with the English translation of the document.
And All Users!

I am sorry I can't provide more description of Rewit in English.
My Japanese website is as follows;
Rewit Development room (Hatena Group): http://rewit.g.hatena.ne.jp/
And I am happy if you enjoy Twitter with Rewit.
Thanks.
<Category :
Rewit(Twitter)
>